Gawler real estate for sale
Gawler real estate for sale cheap
Unfortunately, due to the recent increase in home pricing no real estate is any longer deemed cheap.
Compared to the rest of the world, Australia is the second most expensive country to live based on average house price to income. The United Kingdom takes the unenviable title as least affordable.
South Australia has a whole is still one of the "cheaper" states to reside in. At the time of writing the average home in our state sits close to $700k – see below for a more detailed view of state comparisons.
The medium price of homes per suburb of Gawler is below – which shows that Gawler is still a relatively cheap suburb into which to settle.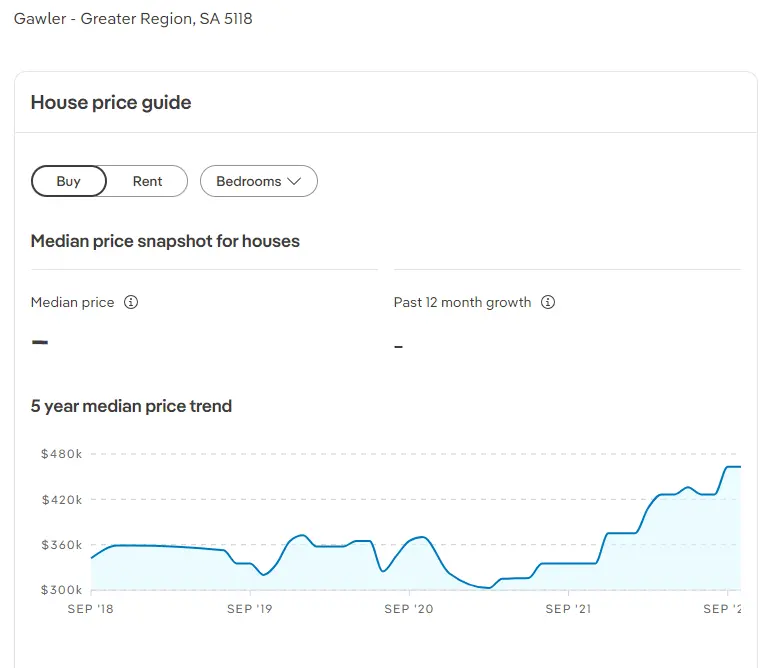 Houses for sale in gawler east
As can be seen from the above image the average sale price for a home currently in Gawler East is $510,000.
Real Estate.com.au is where the majority of all homes in South Australia are listed – the below link will give you an accurate understanding on whats for sale in the Gawler and surrounding suburbs.
RealEstate.com.au homes for sale in Gawler And Surrounding Suburbs?
Is Gawler South a good place to live?
Whether Gawler South is a good place to live depends on your personal preferences and priorities. Here are some factors to consider when evaluating whether Gawler South is a suitable place for you:
Location: Gawler South is part of the larger Gawler area, which is located north of Adelaide. Its proximity to Adelaide can be advantageous for those who work or have other interests in the city.
Community: The sense of community in Gawler South may be a positive aspect for many residents. It's a relatively small town with a tight-knit community, which can offer a friendly and welcoming atmosphere.
Amenities: Consider the availability of amenities like schools, healthcare facilities, shopping centers, and recreational activities. Gawler South, being part of the larger Gawler region, typically has access to such amenities.
Transportation: Evaluate the transportation options available, including public transportation, road access, and proximity to major highways or railway lines.
Natural Environment: Some people appreciate the natural surroundings of Gawler South, including its proximity to the Barossa Valley and the opportunities for outdoor activities and wine tasting.
Cost of Living: Research the cost of living in Gawler South, including housing costs, utilities, and other expenses, to ensure it aligns with your budget.
Job Opportunities: If you plan to work in the area, consider the availability of job opportunities in Gawler South and its proximity to potential employers.
Crime and Safety: Investigate the safety and crime rates in the area to ensure it meets your comfort level.
Quality of Life: Ultimately, the decision to live in Gawler South should align with your overall quality of life and what you value in a community.
To determine if Gawler South is a good fit for you, it's advisable to visit the area, talk to local residents, and conduct thorough research.
Additionally, consider your individual needs and preferences when evaluating any potential place to live.
What works well for one person or family may not be the ideal choice for another.
What suburbs are in the Gawler Council?
the Town of Gawler in South Australia is a local government area (LGA) that encompasses several suburbs and localities. While the composition of LGAs can change over time due to boundary adjustments or administrative decisions, I can provide you with a list of some of the suburbs and localities that were within the Gawler Council area as of that time:
Gawler: The central and most well-known suburb, often referred to as Gawler East and Gawler West.
Evanston: This area is divided into Evanston Gardens, Evanston Park, and Evanston South.
Willaston: A suburb located to the northeast of Gawler.
Hewett: Located to the east of Gawler.
Hillier: A locality to the northwest of Gawler.
Bibaringa: A rural locality to the northeast of Gawler.
Buchfelde: A rural locality to the northeast of Gawler.
Concordia: A locality to the northeast of Gawler.
Gawler Belt: A rural locality to the east of Gawler.
Gawler River: A rural locality to the northeast of Gawler.
Please note that this list is not exhaustive, and the boundaries or composition of the Gawler Council area may have changed since this encapsulation of data was put together.
It's always a good idea to refer to official sources or the local council's website for the most current information regarding suburbs and localities within the Gawler Council area.
Is Gawler a suburb of Adelaide?
Gawler is not a suburb of Adelaide; it is a separate town located to the north of Adelaide. While it is not part of the metropolitan area of Adelaide, Gawler is relatively close to the city and serves as an important regional center within South Australia.
Gawler is often referred to as the "Gateway to the Barossa Valley" due to its proximity to the renowned Barossa wine region. It is situated approximately 40 kilometers (25 miles) north of Adelaide's city center and is well-connected to Adelaide by road and rail. The town has a rich history, and it was one of the first planned towns in South Australia, established in 1839.
So, while Gawler is not a suburb of Adelaide, it is a neighboring town that plays a significant role in the region and provides services, amenities, and housing options for its residents.
More Information on Gawler Real Estate Agents